Back in September of last year, hc1 was featured in the 2016 KLAS Healthcare CRM Report. While this distinction was undoubtedly exciting, it was only a small glimpse into the recognition hc1 would go on to receive from KLAS.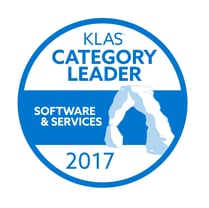 KLAS Research is an accurate and impartial healthcare insights company that analyzes large data sets to help healthcare leaders make better, more informed decisions. After hc1 announced our inclusion as a Category Leader in the 2016 KLAS Healthcare CRM Report, we've built a strong relationship with the independent research platform.
Recently, hc1 was awarded a KLAS Score of 90.1 - more than 20 points higher than any other CRM vendor in the category. This off-the-charts score, along with anonymous survey answers (according to KLAS, 100% of hc1 users surveyed said that "they would buy hc1 again" and that the hc1 platform is "a key part of their long term plans."

As you work to evaluate healthcare CRM platforms on the market, check out www.besthealthcarecrm.com to see how hc1 stacks up to the competition.
---
UPDATE!
As of August 22, 2017, hc1 now has a KLAS score of 94.2 - one of the highest scores ever for a healthcare CRM vendor.